Does your dinosaur lover want to get up-close-and personal with the most fascinating prehistoric creatures from the mighty T. rex of North America to the giant amphibious Spinosaurus of Africa? We were treated to a prehistoric passport to see Dino Safari featuring more than forty life-sized moving dinosaurs. We sent one of our local families as our Guest Reporters, since they have a dinosaur loving daughter, to experience the journey back in time and report back to us on their adventure. Here are their thoughts on the Dino Safari experience at the Freehold Raceway Mall.
"Personally, I think Dino Safari was a great little attraction for the children in our community to enjoy. Our family typically seeks unique attractions and experiences for our daughter and we love for her to gain exposure to new and different things. For us, this attraction was great! Our family definitely enjoyed it. My daughter's favorite part was the very end when an employee walked over to our car holding a baby dinosaur that my daughter was allowed to pet and give a name. She was thrilled! Take a peek with this video: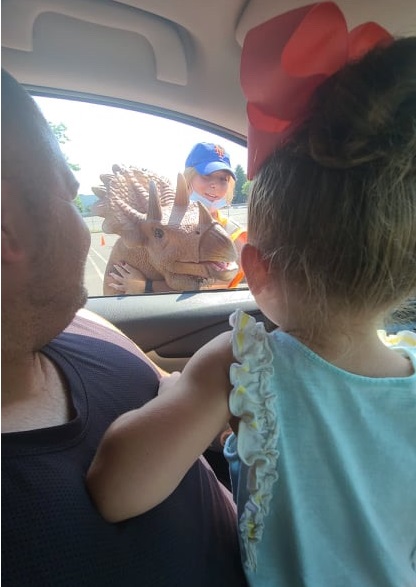 Her favorite dinosaur to see at Dino Safari was the T. Rex! She also loved picking out some souvenirs at the end of our journey back in time to remember our fun day. One tip I'd like to share is that they offer mystery bags that you can purchase for your children, but these are only available at the time you purchase your tickets online and are not otherwise accessible once you are at Dino Safari. So, if you'd like your kids to have a mystery bag, make sure to grab one while you are getting your ticket.
All guests must remain in their vehicles at all times. My daughter is 4.5 and she was aware that all of the dinosaurs were "pretend", but she still wished that she was allowed to get out of our vehicle to explore even closer to the dinosaurs. It would have been even more amazing if that was an option at a couple of the dinosaurs because it was hard for her to resist the urge to get up close and personal with the dinosaurs. It took us approximately 35-40 minutes to drive through the experience. Our ticket time was in the morning and it wasn't super crowded at the time of our arrival. Overall, I'd suggest that the ideal age group of 1 to 3.5 years of age would really be enamored by the dinosaurs and wouldn't yet understand that they are extinct, but also know that young kids and dinosaur lovers of all ages will definitely have a wonderful time at the experience. We had a blast at Dino Safari!"
The Dino Safari drive-thru adventure is fun for the entire family and is now at the Freehold Raceway Mall in Freehold, NJ from Saturday, July 10 through Sunday, August 1. Grab your discounted car pass now: Save $20 on the Dino Safari with the exclusive CertifiKID deal at this link.